When you first log into Challengermode you can find all the available games in under the Games tab in the top left corner, the games you have an account connected for will be in located on the left hand side.

To add a Steam Account for CS 2 , go to the Games page and search for CS 2 - or go directly to the CS 2 page here. Once there, click the Add Account.

A window will then appear, if you have a Steam Account connected for any other game - you will be able to conveniently click that account to add it for CS 2 as well.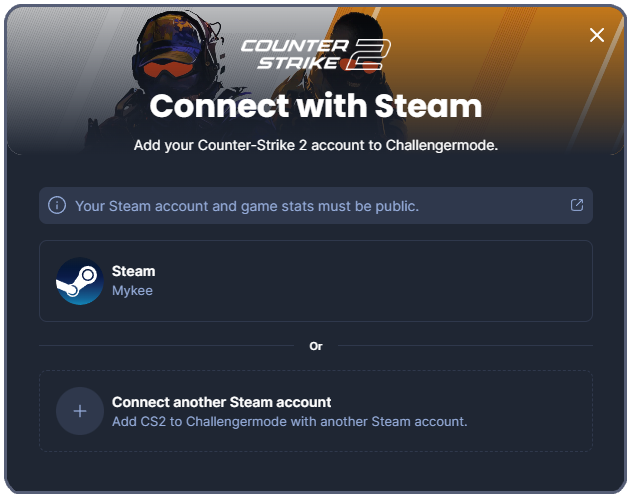 If you don't you will only have the second option in this image, i.e Connect Steam Account.
Sign in through Steam
❗NOTE: Make sure the page you are on is a "https://challengermode.com.." url. If somebody provided you with a link, that is not a Challengermode.com URL - DO NOT connect your Steam account, that is an attempt to steal your login credentials.
If you are unsure, please reach out to our Support and we'll make confirm if a link you have received is legit or not.
By clicking on the Connect Steam account button you will be redirected to the Steam account verification page (outside Challengermode).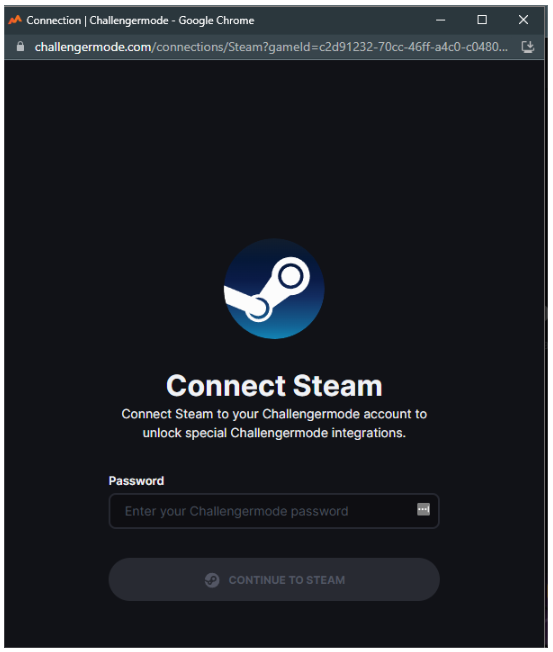 Verify your account on this page (login) and you will be re-directed back to Challengermode.
Please note: If your Privacy Settings on Steam are set to Private, you will not be able to link your Steam account. After making it Public it may take up to 15 minutes until you can link your Steam account to Challengermode.
If you're not certain about the process of making your Steam profile Public, please follow the steps in this article.
---
Running into other issues, or do you have additional questions? Feel free to chat with us by clicking (?) on Challengermode.