You can either receive emails from us in the form of newsletters or announcements or in the form of automatic notifications based on stuff that happens on Challengermode related to your account (such as private messages or invites).
Follow the instructions below to deactivate email notifications, or just reduce the frequency of them.
Turn off newsletters and announcement emails
At the bottom of every email, you will find an Unsubscribe link. If you unsubscribe, you will not receive any kind of feature announcements, newsletters, tournament calendars or automatic emails from Challengermode. For example:

Turn off Challengermode-related activity emails
Under the sub-menu App Settings located in your account settings, you'll find the options to change notification settings for things like private messages, friend invites, team invites, and referrals. Here are the available settings: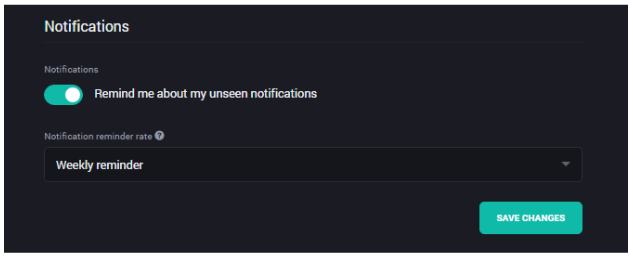 You can either:
Turn them off altogether or

Decrease the frequency of email notifications (

how often you get them

)
You can choose between an hourly, daily or weekly reminder. For example, if you choose a daily reminder rate you'll only get one email per day even though you have 5 unread messages (and only if something happens on your account).
The only exception to the above settings is when you make a payment and we send you an email receipt, which you currently cannot turn off.
---
Running into other issues, or do you have additional questions? Feel free to chat with us by clicking (?) on Challengermode.