This guide continues where our Configuration Guide ends.
Your tournament is now about to start!
Tournament started
Your tournament will automatically be seeded and started at the scheduled start date and time.
As with any other tournament, the players will be redirected to their on-site Match Lobbies.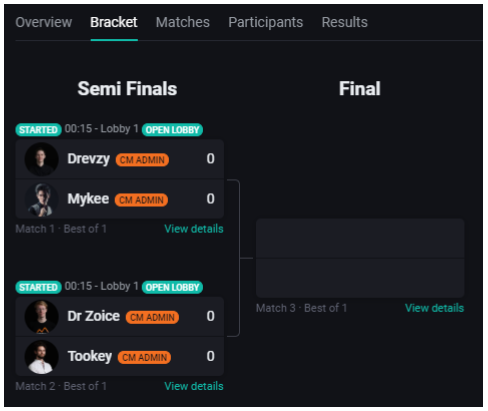 You can find all these match lobbies in the Bracket. The matches will start and finish automatically, however - there are times when you might need to intervene and/or administer one of the lobbies.
To administer a specific match, you click View Details (turquoise text) located at the lower right corner of a specific Match in the bracket.
View Details
This is the match overview, you have several tools at your disposal and will get an overview of the match details.
This overview consists of three different views. Games, Lineups and Settings.
Games
The games section gives you an overview of past and on-going games in the match.
This is also where you can manipulate the current state of the lobbies, such as discarding, pausing and go to game which takes you to the lobby overview.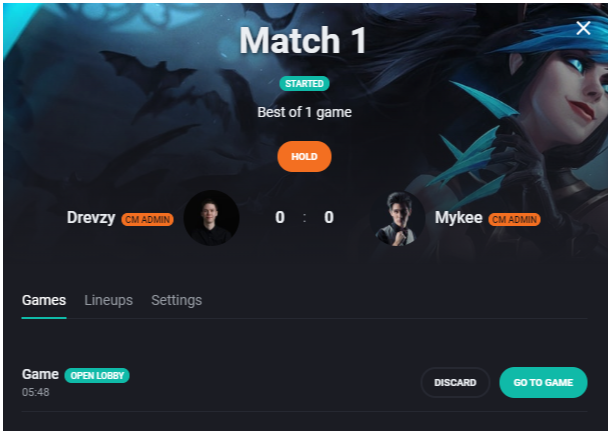 Discard
By clicking the Discard button next to a lobby, you will discard the lobby results and a new lobby will then be created.
This can be done after a match lobby has been completed in case it needs to be re-played.
! Note: If the match is on Hold or Paused a new lobby will not be created until you resume the match.
Go to game
By clicking Go to game you will be re-directed to the on-site lobby for that particular match.
In the lobby view, you will be able to chat with the participants, extend timers, disqualify teams
Hold
By clicking Hold the on-site lobby will be put on hold, it will show up as paused in the Bracket.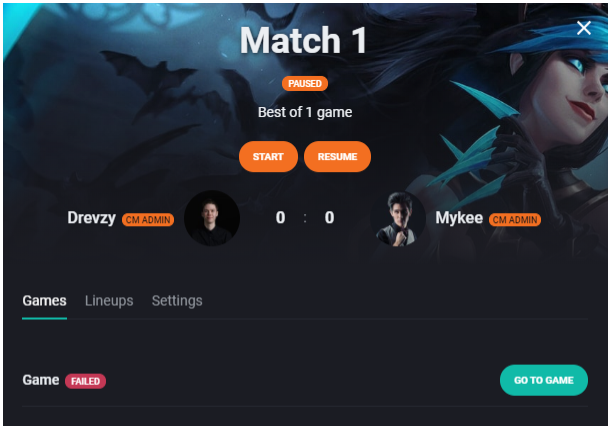 If the players in a match fail to ready up, the match will automatically be put on hold. You will, in that case, have to manually Resume the game.
When a match is put on hold, the overview looks slightly different. The Hold button is then replaced with a Start and a Resume button.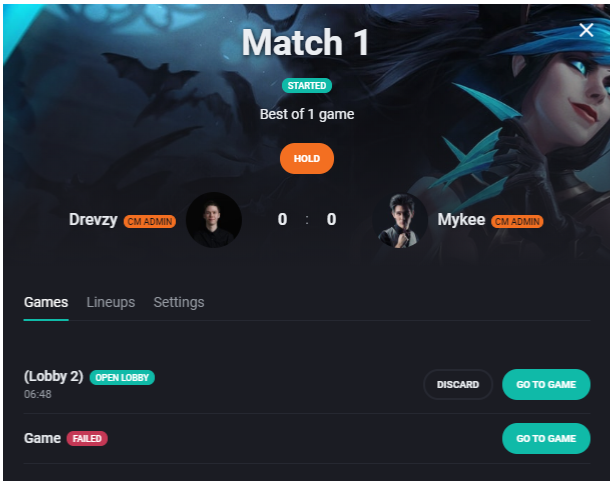 As this match is already in a started state, and is merely put on hold, I would click Resume for the lobby to be active again - a new lobby will then be created for the players as on the example image on the left.
Lineups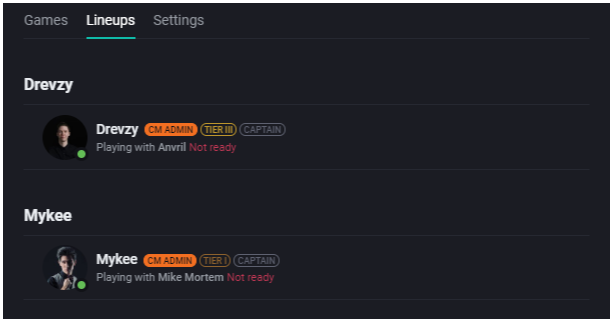 If you want to get a quick overview of the player's current status without going to the actual lobby (Go to game) you can catch a glance of their status here.
If there is a game that's been paused and you want to see if the players are all offline or something similar, this is a very convenient place to do that.
Settings
This is where you adjust the settings for this particular match.
You can set the number of Games to be played in a match in this section, if all games are to be played as Bo1 but the final is to be a Bo3 - you can go to the match details of the Finals and enter 3 instead of 1 under Game count (best of).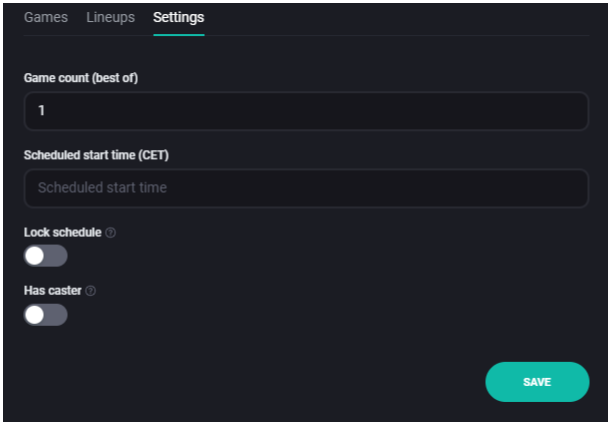 You are also able can enter a scheduled start time for that specific match.
If it's a tournament that will span over several days or weeks, and you already have planned the dates and times for each match, you can enter the date and time in this field.
The game will then automatically start at the scheduled start time.
Lobby Tools
This is the individual game lobby.
As a host of the tournament, or an admin, you will have several tools to administer the lobby. You can disqualify teams, fail lobbies and relax deadlines (timers).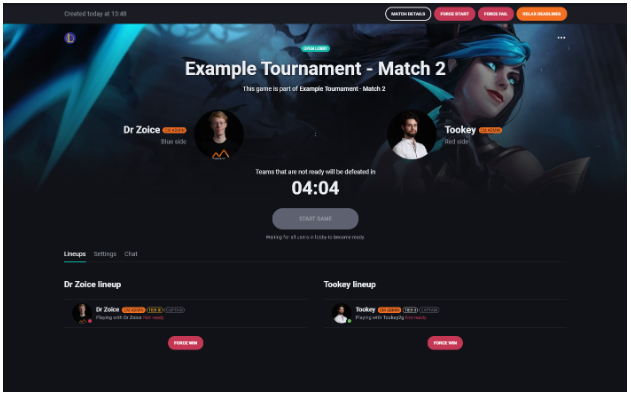 Match Details
By clicking Match Details the same information will appear as if you had clicked View details in the bracket overview.
If you need to discard a lobby, have spoken to the players in a lobby about rescheduling or simply want to get an overview of the match - you can click this button.
Force Start
Force Start will make both players Ready. If the timer is closing zero, but you know that both players are around and will be playing - you can click Force Start.
They will however manually need to join the in-game lobby and ready up there.
If you want to give them additional time, you can click Relax Deadlines, more details below.
Force Fail
By clicking Force Fail you will restart the current lobby. It works in a similar way as Discard does, however - this option won't be available in a lobby that has already been completed.
To discard the results of an already completed lobby, you will need to use the earlier mentioned Discard button.
Relax Deadlines
If you know that the players won't be able to ready up in time, or if you simply want to give them more time to ready up or post-pone the game slightly, you click Relax deadlines.
This will give the lobby 3 hours to complete, the match has to be played within that time limit - if it does not, the lobby will fail and the match will be Paused in the bracket.
Force Win
If you click Force Win under a specific team, they will be declared victors in this match lobby.
This is a fast and convenient way to disqualify a team or to report results manually if you are running a tournament with your own custom rules for example.
Extras
By clicking the three dots in the upper right corner you can find some additional options.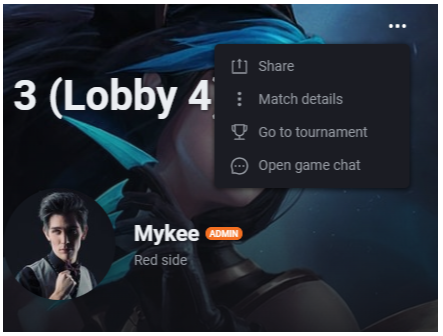 If you click Share, you will be able to share a link to the lobby via different social platforms, or simply get a link which you can copy-paste to others.
The Match details will re-direct you to the earlier mentioned match details.
Go to tournament will take you back to the Tournament overview page, it's a convenient way to navigate back to the overview or the bracket.
Open game chat will open up the lobby chat in the lower right corner, this is where you can communicate with the players in the lobby - it is also where the players in the lobby will be communicating with each other.
---
Running into other issues, or do you have additional questions? Feel free to chat with us by clicking (?) on Challengermode.