In this example, we will be using a Ladder for League of Legends - the article applies to all ladders for all games however!
---
The ladders for for any game can be found on the overview page for that game. For League of Legends, you can find the page here.
While at the League of Legends overview page, you will be able to find a tab for the Ladders at the top.

You will be presented with a list of all available laders, click one to view it in detail.

Join the ladder

Once you have joined the Ladder you can't leave it or join another one until the Ladder has closed. You can see how much time remains on the daily Ladder Overview located on the right side.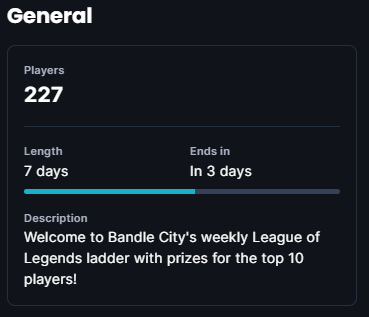 Play 10 Games
To get a position in the Ladder, enter the League of Legends 5v5 Solo/Duo Queue with the Summoner you have joined the ladder with and play the first game.


You can play as many games as you like during the length of the Ladder, but only the 10 best games will determine your total score.
Verify your Summoner
If you see this message: You need to Verify your summoner.
You need to verify your Summoner (to show that you are the owner of the League of Legends account) before you can play.
Once you've played a few games, your position and status will update automatically to reflect your current score.
How does the scoring work?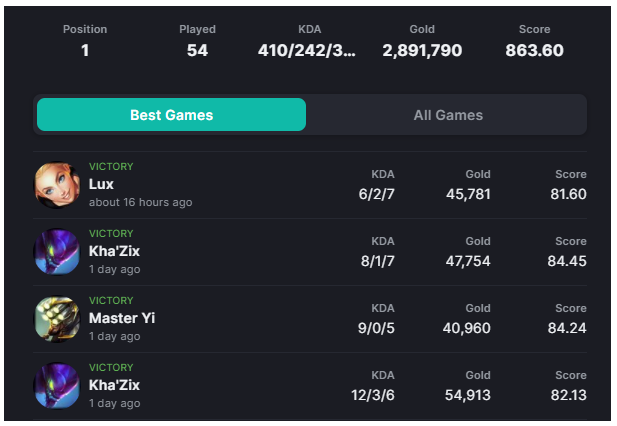 The current scoring is described in the bottom right of the Daily Ladder view. In short, winning games and getting kills, assists and gold will give you points. The scoring may change as we improve and update the Ladder. Learn more about the scoring method here.
Please note, you need a ranked Level 30 Summoner to join the Ladder.
---
Running into other issues, or do you have additional questions? Feel free to chat with us by clicking (?) on Challengermode.